We are a law firm founded by Samuel A. Cherry and Benjamin A. Irwin with over 150 years experience and a team of some of the country's most experienced and aggressive personal injury lawyers. Cherry & Irwin has developed a well-earned reputation for tireless and effective legal representation.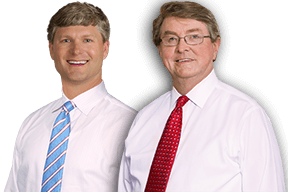 163 W. Main Street Dothan, AL 36301
Camp Lejeune Toxic Water
Did you or a loved one visit, work, or live at Camp Lejeune between 1953 and 1987? If you battled sickness, injuries, birth defects, or cancers after exposure to Camp Lejeune contaminated water, contact us today. You may be entitled to compensation.
What is Camp Lejeune and what happened? U.S. Marine Corps Base Camp Lejeune, North Carolina was established in 1942. In 1982, the Marine Corps discovered specific volatile organic compounds (VOCs) in the drinking water provided by two of the eight water treatment plants on base (cdc.gov). Supply wells were contaminated by multiple sources: leaking underground storage tanks, industrial area spills, and waste disposal sites.
What is The Agency for Toxic Substances and Disease Registry (ATSDR) Position on the Water Contamination at Camp Lejeune? It is ATSDR's position that past exposures from the 1950s through February 1985 to trichloroethylene (TCE), tetrachloroethylene (PCE), vinyl chloride, and other contaminants in the drinking water at the Camp Lejeune likely increased the risk of cancers (kidney, multiple myeloma, leukemias, and others), adverse birth outcomes, and other adverse health effects of residents (including infants and children), civilian workers, Marines and Naval personnel at Camp Lejeune.
For more information visit
NEVER A FEE
Cherry & Irwin handles liability cases on a contingency basis This means you will not need to pay attorney fees until you win your case. Our attorneys are able to represent clients on a contingency basis, who have cases involving serious injuries and wrongful death resulting from incidents such as motorcycle, automobile or workplace accidents, use of defective products or medications, and drowning accidents.Our staff is available to answer your questions, so contact us today for your free legal consultation.